Pro Dunk Boise
💪 Heavy-duty basketbal hoops 50% heavier vs store brands 🚚 shipped directly to you & 🔧 installed by top local Boise profesionals
Company
Pro Dunk Hoops Boise
Address
120 E 38th St, Suite 101
Boise
,
ID
83714
United States
Pro Dunk Hoops specializes in manufacturing a basketball goal better than you'll find in your local Boise big box store. Our systems weigh 40% more delivering better performance and durability. We've teamed up with Ron Mespelt at Alternative Office Services out of Boise, Idaho for professional installation services as well.
Featured Boise Installer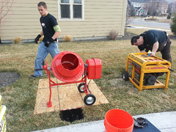 Alternative Office Services
208-939-2005
Service Area
Greater Boise, ID
About
Alternative Office Services is a premier furniture service and installation business located in Boise, Idaho. AOS is veteran owned and we have proudly been in business since 1998. We service all the western U.S. states. Give us a call to see what we can do for you. We Are Your Solution!