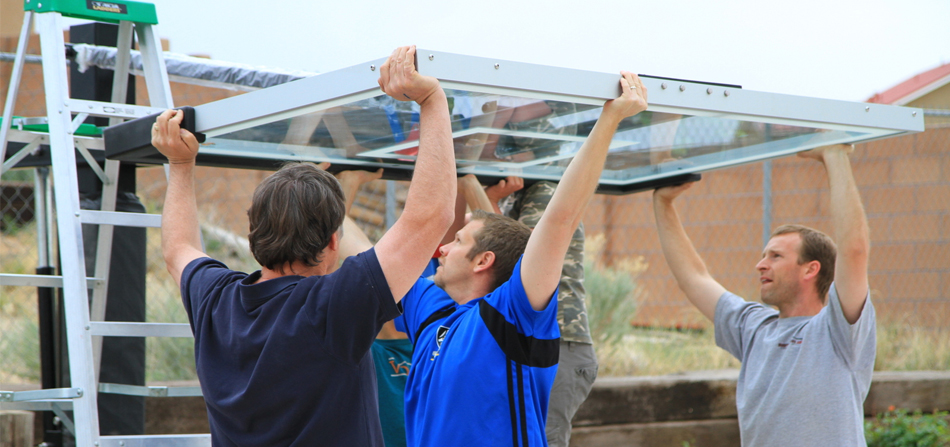 Pro Dunk basketball goals are designed from the ground up to be better than anything you'll find at your local store. Here is how we do it...
Backboard
All of your basketball goals use 1/2" thick tempered glass which is regulation material and thickness.
Extruded aluminum frame mechanically locks glass into place creating an incredibly rigid frame that will never weaken over time
Shooter's square and perimeter markings are etched and baked on ensuring the backboard stays looking great for years even in high use applications.
Adjustment
Unlike other brands Pro Dunk systems use a lift-assist mechanism making height adjustment easy enough for a six-year-old
The Pro Dunk actuator is geared down and turned 90 degrees for an ergonomic adjustment experience that's effortless.
The Pro Dunk warranty covers every structural component including the adjustment mechanism for as long as you own the system
Industry Leading Corrosion Protection with Rust Armor
Stainless hardware
Zinc galvanized structural components
If anything stops working properly due to corrosion, it's covered under the warranty and we'll promptly send out any parts necessary to get your hoop back up running properly
Includes Complete Padding Set
Polyurethane skinned backboard padding is water resistant and includes UV inhibitors. It's molded around steel inserts that are bolted into the backboard frame unlike other brands that simply glue their padding on.
Pole and gusset padding included for free. High density foam helps protect players if they were to run into the pole or fall onto the base.
Main Pole
Pro Dunk basketball goals use oversized poles with 7ga thick steel delivering superior rigidity versus store brands with smaller, thinner poles. If you're looking for a stable, no-sway playing experience look no further.
The main pole is welded to a ½" thick slab of steel and reinforced with 8 gussets effectively shortening the pole and helping the whole structure deliver an incredibly stable rebound.
Rim
Mounts through cutouts in the glass directly into the main structure ensuring all rim pressure is never transferred into the glass eliminating the risk of breaking the backboard, guaranteed.
The Pro Dunk rim weighs over 20 pounds and includes two heavy springs meeting NCAA specifications and delivering a true gymnasium quality rebound response.
Dunking and hanging is covered by the warranty