Roof-Mount Basketball Hoops
Roof King systems deliver solid performance and are made of top notch materials ensuring years of fun driveway basketball. An innovative bracket works on 85% of roofs and ensures a level system with a regulation 10' rim height. Roof King is perfect for driveways without a great place for an in-ground system and people who want a high-quality peice of equipment that plays great.
🏀
Regulation ½" thick tempered glass backboard delivers gym quality rebounds
⭐
Over 250 reviews averaging 4.82 stars
💪
Heavy-duty all-steel A frame bracket for years of family fun
🛠️
Works on most detached garages, professional installers available in most areas
check now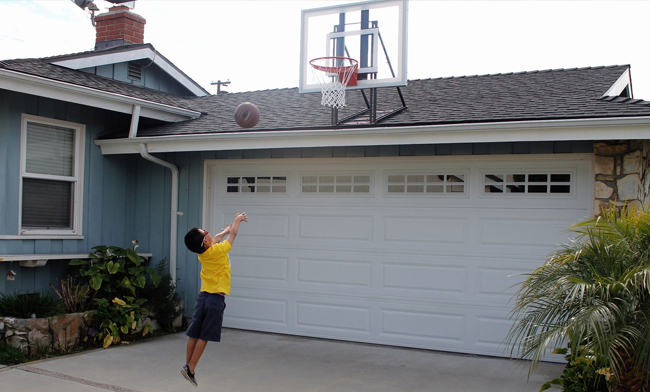 "My son uses this product to practice for basketball. It is very well constructed looks great. Highly recommend."
Dad Coach
Studio City, CA
Choose A ROOF KING Model
SALE

$1,550.00

$1,299.00

Full Details

SALE

$1,400.00

$1,199.00

Full Details
Best For
2-Car+ Driveway, Family Fun
1-Car Driveway, Family Fun
Board Size
60" x 36"
48" x 36"
Board Material

Tempered Glass

Regulation

Tempered Glass

Regulation

Glass Thickness

½"

Regulation

½"

Regulation

Warranty
Limited 10 Year
Limited 10 Year
Accessories

Available

Lighting, netting & more

Available

Lighting, netting & more
Shipping

Free

Scheduled see timeline

Free

Scheduled see timeline
List Price
$1,550.00
$1,400.00
Sale
$251.00
$201.00
Price
$1,299.00
$1,199.00
Full Details
Full Details
Best For
Backboard
Warranty
Accessories
Basketball

SALE

$1,550.00

$1,299.00

Full Details

2-Car+ Driveway, Family Fun

60" x 36"

½" Thick Tempered Glass

Limited 10 Year

Available

Lighting, netting, court striping & more

Included Free

Men's regulation outdoor rubber

SALE

$1,400.00

$1,199.00

Full Details

1-Car Driveway, Family Fun

48" x 36"

½" Thick Tempered Glass

Limited 10 Year

Available

Lighting, netting, court striping & more

Included Free

Men's regulation outdoor rubber